Welcome New Prometheans!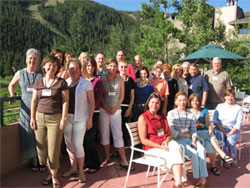 Welcome! What makes Prometheus unique is that the attendees create and implement the agenda of Big Questions to address in small, self-selected, self-organized groups that meet throughout the retreat property, which is chosen for its relaxed, intimate atmosphere and beauty.
As we do with everyone, we invite you to bring your Big Questions to the retreat so that they can become part of the agenda, to be explored with the colleagues who share those quandaries. A Big Question is one that invites deliberation and diverse perspectives. It's a question that is not easily answered and one that needs drilling down or peeling back to explore satisfactorily. We've posted on the web site a selection of the Big Questions that participants have brought to the retreats in the past for such exploration with their peers.
The schedule creates 75-90 minute blocks for six "small circle discussions", making for a comfortable pace where no one feels rushed. The process creates a trusting and intimate environment, through which attendees feel comfortable sharing their thoughts and exploring ideas. Each of the small circle discussions is captured by a "scribe" from the group, who enters a summary onto a computer so that a complete record is captured for the participants and sent to them typically within 10 days of the retreat.
The Prometheus Leadership Retreat thus creates opportunities for you to explore your challenges, issues and, even, vexations in a safe and beautiful space with colleagues with whom you can share ideas and resources. The above is all done at a pace that doesn't rush you, nor require you to be anywhere that you don't choose to be. We've posted a FAQs page for further information.
In late March, we'll send you more information about the retreat so you can have a better sense of how the days unfold. We'll also offer to connect you with a Promethean "buddy" who can answer your questions, introduce you to other new and returning Prometheans and help you quickly feel like a member of this special community of association industry executives. It's an experience that is as intense as it is relaxing and rejuvenating, and we want you to feel comfortable participating fully!